China increases its US debt holding for second month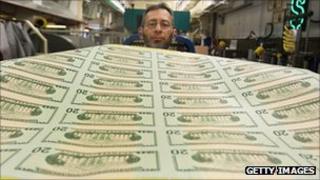 China has increased its holding of US debt for the second month in a row as its foreign exchange reserves continue to rise.
Beijing bought $12.7bn (£8bn) of US bonds to increase its holding to $1178.9bn in February, latest data by the US Treasury department showed.
China's foreign exchange reserves, the largest in the world, rose 3.9% in the first quarter from a year earlier.
China is the largest foreign buyer of US government debt.
"There are not many avenues, other than government bonds, where one can invest billions of dollars every day," Charles Chaw of China Consulting told the BBC.
'Safer bet'
Analysts said the ongoing debt crisis in the eurozone and hopes of a recovery in the US economy have also played a part in China's increased purchase of US Treasuries.
There are fears that the eurozone's debt crisis may be spreading to the region's biggest economies.
On Monday, the cost of borrowing for Spain jumped above 6%, raising concerns about the ability of the government to repay its debts.
"Given the situation in the the eurozone, the US Treasuries are a much safer bet," said Mr Chaw.
On the other hand, the US economy has seen some positives in recent months. Data out on Monday, showed that retail sales grew at a faster-than-expected pace in March.
At the same time, unemployment rate in the world's biggest economy has also been coming down, falling to a three-year low, raising hopes of a sustained recovery.