Fine wine investors lose millions as companies go under
By Bob Howard
Reporter, Money Box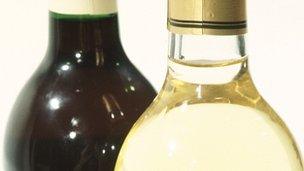 People investing money in fine wine have lost an estimated £100m over the last four years following the collapse of wine investment firms, the BBC has learned.
It is thought more than 50 UK-based vintage wine investment firms have collapsed in that period.
Some individuals speaking to Radio 4's Money Box say they have lost over £100,000 after investments went sour.
Liquidators say they have uncovered examples of "colossal" mismanagement.
Sarah, not her real name, lives in the East Midlands and is in her fifties. Her husband died 10 years ago and her inheritance meant she had money to invest.
A couple of years after her husband died, Sarah started receiving calls from a firm called Bordeaux UK Limited, offering to help her buy wine as an investment.
Sarah did not know much about wine, but the trader was very persuasive.
Sarah paid for the investment with money from her savings account and received certificates stating that bottled wine had been bought and was being stored under her name in a bonded warehouse.
Over the next couple of years she invested a little more money, sold some wine, and then reinvested the profits in more wine, as Bordeaux UK Limited advised her to.
Then as the stock market crashed and returns on savings plummeted, she decided to put money from her maturing bonds and her earnings into vintage Bordeaux as well.
"They said China was coming on line and they became more persistent," she says.
"They said you'll be sorry if you didn't buy it. To get them off the phone I ended up agreeing to buy something," she told Radio 4's Money Box programme.
By 2011, when she added it all up, Sarah realised she had put in £180,000.
Then in November of last year she received a short letter from Bordeaux UK Limited which said: "The company has some administration problems and it was decided that the best way to resolve them was to put the company into liquidation."
Sarah could not believe that she was now at risk of losing so much money: "I knew I might not get back what I put in, but I wasn't expecting it to go bust.
"I feel ashamed that I put in more money than I should have done."
Sarah is not alone in being worried. Money Box has spoken to the daughter of another customer who invested £80,000 in the same firm.
Jim Budd is a fine wine expert who also reports on the possible pitfalls of investing in this area.
He attended a meeting called by the firm's liquidator: "It was very clear from the creditors' meeting that financial records were in a complete mess as they were unable to establish exactly what the deficiency was."
The liquidator, Abbot Fielding, says it has received creditor claims totalling £10.5m whilst assets only amount to between £2m- £2.5m.
He believes creditors may only receive back around 15-20 pence for every £1 they invested.
Nadim Ailyan, the insolvency practitioner handling the liquidation, says: "There are certainly strong elements of mismanagement on a colossal scale."
Mr Ailyan says Bordeaux UK Limited is one of eight wine investment company collapses his company has dealt with recently.
But the problem is likely to be even more widespread: "I would estimate in the last four years there have been at least fifty such companies which have been dealt with by other insolvency firms," he says. Certainly tens of millions, potentially over £100m may have been lost."
Money Box is broadcast on Saturdays at 12:00 GMT on BBC Radio 4 and repeated on Sundays at 21:00 BST.
Related Internet Links
The BBC is not responsible for the content of external sites.