UK job vacancies 'rose in March'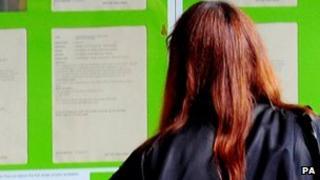 The number of job vacancies in March grew at its fastest rate for eight months, led by the IT and computing sector, a report has said.
The Recruitment and Employment Confederation (REC) report also said that permanent staff placements rose for the third month in a row.
But there was a drop in the number of temporary appointments in March.
The REC said many firms had converted temps into permanent staff due to the effect of Agency Worker Regulations.
The regulations, which came into force at the end of last year, gave agency workers equal rights with directly employed staff after 12 weeks in a job.
Although, there were more jobs on offer in March, starting salaries for new permanent staff "stagnated".
Tom Hadley from the REC said the rise in permanent appointments and vacancy growth was a "positive indication of increasing employer confidence".
"Recent tax changes announced in the Budget, the Youth Contract and reductions in red tape for businesses, that came into effect this month, should further boost employer confidence and accelerate hiring activity," he said.
"This month's data shows a slight decline in appointments of temporary workers.
"This may in part be linked to employer uncertainty over the Agency Worker Regulations, although it could mainly be due to the fact that increasing business confidence has resulted in more employers being prepared to take on permanent hires rather than temporary or contract staff."
The REC, together with KPMG, compiles its report using information from 400 recruitment and employment consultancies.
The latest data from the Office for National Statistics showed that UK unemployment rose by 28,000 to 2.67 million in the three months to January.