Profile: World Bank nominee Jose Antonio Ocampo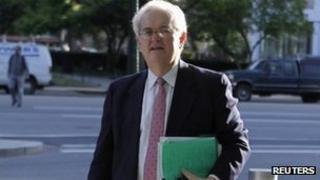 Columbia University professor Jose Antonio Ocampo is a Colombian economist with years of practical experience in multilateral organisations and one of the leading academic figures in the field of development.
As finance minister for Colombia from 1996 to 1998, he has been widely credited with having pushed forward policies that helped his country avoid the worst of the financial crises to have struck Latin America in recent years.
He also served as minister of agriculture and director of planning and has been a visiting fellow at Oxford and Yale.
But he seems to have emerged as a viable candidate mostly thanks to his performance at the helm of the UN's Economic Commission for Latin America and the Caribbean (Eclac) and his stint as UN under-secretary general for economic and social affairs from 2003 to 2007.
Too many Colombians?
Indeed, one feature of Mr Ocampo's nomination is that it does not have the official support of the Colombian authorities.
The Colombian government wants Vice-President Angelino Garzon to become director general of the International Labour Organization.
It seems to believe Ocampo may be a "Colombian too many", especially since fellow countryman Luis Alfredo Moreno is already the president of the Washington-based Inter-American Development Bank.
But the soft-spoken Mr Ocampo is backed by a group of developing countries, led by Brazil, while being also very well received in international academic circles.
"If the decision is finally based on merit, as it should be, Ocampo will win: he is far and away better than any on the list of credible names," said Boston University professor Kevin Gallagher in the FT.com blog Beyond Brics.
Economists supporting the 60-year-old Colombian's bid also include Sir Richard Jolly and Nobel-prize winner Joseph Stiglitz.
Unorthodox view
The son of a former government minister and university dean, Mr Ocampo first went to school in the Colombian city of Cali before moving to the US to study for a BA in economics and sociology at the University of Notre Dame, where he graduated in 1972.
Four years later, he also got a PhD in economics from Yale University, aged only 23.
On his return to Colombia, he went into academia - which many consider his true passion - before joining the liberal government of President Cesar Gaviria in 1990 as an economics adviser.
Not an orthodox free-marketer, Mr Ocampo wanted the Colombian economy - that was staring to open itself to the world - to do so gradually, but he lost the debate and chose to resign his position.
He returned as minister of agriculture in 1993, and when Ernesto Samper was elected president in 1994, he was first appointed director of public planning and then minister of finance.
It was then that he decided to establish controls on capital inflows, such as requiring foreign investors to deposit part of their capital at the Colombian Central Bank.
At the same time, he also championed the injection of more capital into the productive system - clearly distancing himself from the dominant "laissez-faire" attitude that prevailed in the region.
Work ethic
Mr Ocampo only left the finance ministry to run Eclac (or as it is known in Spanish, Cepal), which he turned into a development powerhouse.
Throughout his career, Mr Ocampo has stayed true to his belief that successful development "is always the result of a good combination of market, state and society".
"If you try to get rid of markets, that will result in severe inefficiencies and loss of dynamism," he wrote recently in an article outlining his view for the World Bank.
"To try to move forward without the state provokes unfair or unstable results, while ignoring social actors takes away the legitimacy needed for successful policies."
And those who know him well vouch for his intellectual honesty and work ethic. It is said that during his time at Eclac, he used to wake up at 04:00 in the morning in order to have a little bit of time to think, read and write.