BAA airport traffic in March boosted by early Easter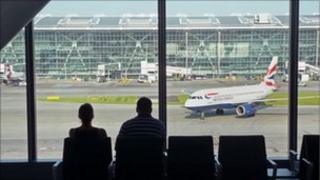 The number of passengers travelling through BAA's airports in March rose by 4% on the previous year, thanks largely to Easter falling earlier in 2012.
The airport operator said 8.6 million passengers used its six UK airports in the month.
BAA said "a substantial proportion" of pre-Easter traffic fell in March whereas it fell in April last year.
BAA operates Heathrow, Stansted, Southampton, Glasgow, Edinburgh and Aberdeen airports.
However, it plans to sell Edinburgh after the Competition Commission told it to sell one of its Scottish hubs.
The UK's busiest airport, Heathrow, saw 5.7 million passengers pass through its terminals in March, a rise of 6.9% on the year.
That meant that the London airport saw more than 70 million passengers over a 12-month period for the first time, which BAA called a "major milestone".
Aberdeen saw a 10.2% rise in passenger numbers, while Glasgow saw a 4.6% rise.
However, numbers fell at Stansted (-4.7%), Southampton (-1.7%) and Edinburgh (-2.8%).