Burma stock exchange planned by Tokyo bourse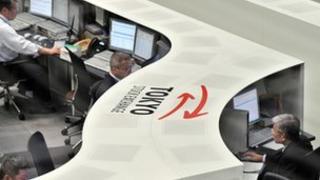 Burma is to get a new stock exchange, after the Tokyo Stock Exchange and Daiwa Securities received preliminary approval to help set one up.
A Daiwa spokesperson said it would work with Burma's central bank to establish the exchange by 2015.
Burma is seeking to attract more foreign investors after decades of strict military rule.
The resource-rich country held historic by-elections earlier this month which may lead to a more open economy.
The European Union, United States and Canada are among those looking to relax sanctions on Burma following its political reforms.
"By establishing Myanmar's first stock exchange... we think we will be able to contribute to developing capital markets in the country," the Tokyo Stock Exchange said in a statement.
Caution
Hugh Young, managing director at Aberdeen Asset Management Asia, told the BBC: "There's a great deal of interest in Burma, foreign investors are getting on the bandwagon as they say."
However, he added: "I think I'd sound a word of caution. 'I think everyone is terribly enthusiastic and there's lots of potential in Burma, but typically at this early stage people do tend to get carried away, as money can be made, but lots of money can be lost as well."
This will not be Burma's first stock exchange.
The Myanmar Securities Exchange in the capital city of Yangon was established in 1996, but has had limited success because only two stocks are listed on it.
Financial and technological infrastructure is rudimentary in Burma, which means investors have to trade shares on paper at the exchange itself.