Alcoa quarterly profits decline on aluminum prices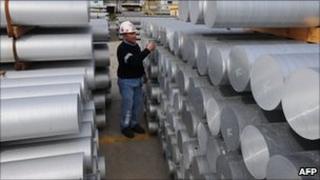 US aluminium giant Alcoa has said that its net profits fell from a year ago as the company kicked off US earnings season.
It made a net income in the first quarter of $94m (£59m), compared with $308m in the same period last year.
This was partly due to a 9% drop in the sale price of aluminium, said Alcoa, which is the world's largest producer of the metal.
But it is better than the previous quarter when Alcoa made a $191m loss.
Alcoa is the first member of the blue-chip Dow Jones Industrial Average to report quarterly earnings.
There was also 13% drop in the realised price of alumina , which is an oxidised form of aluminium of which Alcoa is also the world's largest refiner.
"Challenges remain in this economy, but we approach them better prepared than ever before," said Klaus Kleinfeld, Alcoa's chairman and chief executive officer.
Alcoa shares fell 2.9% earlier, before trading closed, amid steep global stock falls.