Some store card debtors may be let off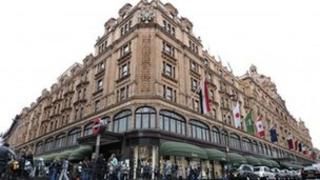 Some issuers of store-branded credit cards may be unable to collect debts run up by some of their defaulting card holders, following a court ruling.
Judge Henrietta Manners ruled at Clerkenwell and Shoreditch county court that Santander could not collect a debt of £5,126 on a Harrods card.
She said this was mainly because the store card's terms and conditions were not properly supplied and signed.
But its later upgrade to a credit card was also not carried out correctly.
The Harrods card-holder in question, Diana Mayhew, said she never asked for the upgraded card, issued in 2003.
She said: "It arrived on my mat completely unsolicited - a new-style card with a Mastercard logo and a welcome letter.
"If you send someone a card marked 'Harrods, go spend', the temptation is massive to use it.
"I would not have spent £5,000 on that card if I had not been given it, I certainly would not have applied for it."
Fresh agreement required
Santander argued in court that GE Capital, which ran the Harrods store card business at the time, had not needed to send new terms and conditions for the newly issued credit card.
But the judge disagreed, saying that even though Diana Mayhew had activated the unsolicited credit card, regulation 7 of the Consumer Credit (Agreements) Regulations of 1983 still required the bank to supply fresh terms and conditions.
"Compliance with the regulation requires a copy of the fresh agreement containing the relevant prescribed information to be served on the debtor," the judge said.
"It was the claimant's [Santander's] case that the new card was supplied under a credit token agreement which remained in force and that there was no modification attracting regulation 7.
"In my judgement the claimant's analysis is wrong and there was a modification of the agreement requiring compliance with regulation 7," she added.
Opportunity for debtors
As a county court judgement, the ruling is not binding on other courts.
But it opens the way for other defaulting card users in a similar situation.
They too may be able to argue in court that their cards were also upgraded improperly and that their debts are therefore similarly unenforceable.
Paul Tilley, who works for Diana Mayhew's solicitors, Watsons of Llandudno, said: "The upgrade was not just a simple variation of the terms, but was a completely new creature, it turned the store card into a credit card. The whole structure of the agreement changed."
"It wasn't just a variation, which is what Santander said it was. It was a modifying agreement [but] there was no new signed agreement.
"If they [customers] weren't provided with a copy of a new agreement, with the new card, to agree to and sign and return, it would lead to unenforceability," Tilley added.
Problem for Santander
The issue may be a particular problem for the giant Spanish bank Santander, which these days owns the former Abbey, Alliance & Leicester and Bradford & Bingley banks.
It bought the entire GE Capital card business in 2009.
This meant it took over running millions of store cards, and store-branded credit cards, for a variety of retailers such as Harrods and Mothercare.
It still runs them for companies such as Debenhams, Asda, House of Fraser, Laura Ashley, Harvey Nicholls, Russell & Bromley and Ryanair, as well as the various outlets in the Arcadia group, such as Topshop and Dorothy Perkins.
News of the county court case took Santander by surprise, and a spokeswoman would say only: "We are currently reviewing our options in response to the case," although Santander failed to appeal against the county court ruling.
Inertia-selling
The 2003 upgrading process involved several million credit cards being sent by GE Capital, unsolicited, to holders of Debenhams as well as Harrods store cards, in an example of mass inertia selling.
This attracted critical attention, especially from the Office of Fair Trading (OFT).
In January 2004 , it told GE to stop telling its store-card holders that their cards would automatically be changed to a credit card unless they objected.
The OFT also challenged part of GE's store-card agreement, which suggested the bank had an unrestricted right to change the terms and conditions of the agreement.
In the light of Diana Mayhew's victory, an OFT spokesman said: "This judgement supports a previous challenge by the OFT that a standard term in the GE store card agreement, purporting to give GE an unrestricted right to change the terms of the agreement, is legally unfair."
Harrods stopped issuing store or credit cards in 2007.
Implications for M&S
Santander's defeat could affect food and clothes retailer Marks & Spencer .
Its card business, which is a wholly owned subsidiary of HSBC bank, had instigated a wholesale conversion of 2.6 million of its store cards to credit cards in September 2003.
By October that year, the OFT had taken a dim view of this as well.
Marks & Spencer, like GE Capital, had been telling its store-cardholders that their cards would be upgraded to credit cards automatically.
M&S was forced to step back, and to make clear to customers that if they wanted to keep their store card, they could simply ignore the new bit of plastic that had fallen, uninvited, through their letter box.
On the specific point at issue in Diana Mayhew's case, M&S declined to say whether it had supplied all its cardholders with updated terms and conditions at the time of the upgrade.
How many of these upgraded cards are still in circulation?
Trade bodies such as the UK Cards Association and the Finance and Leasing Association do not know, and the card issuers themselves are not saying.
"This information is commercially sensitive," said Santander.
But Bradley Say, a leading consumer law barrister, said: "I think this might be a common scenario where borrowers have had a store card changed to a credit card without the parties entering into a new [modifying] agreement."
Following the publication of this story, M&S Money said it had no doubt that the introduction the M&S credit card was carried out in accordance with the law. A spokeswoman said: "All customers that received the new M&S Credit Card were previously notified in writing of the changes to their terms and conditions. They also received a copy of these terms and conditions with their new card."