Best Buy chief executive Brian Dunn resigns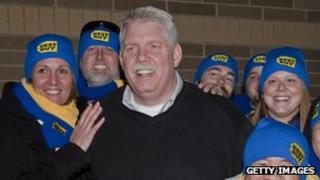 The chief executive of US electronics retailer Best Buy, Brian Dunn, has resigned after the firm's recent poor performance.
The company said it was a mutual decision and it was "time for new leadership to address the challenges that face the company".
Following the news, shares rose almost 5% in early trading, before falling sharply to trade 2.6% lower.
Less than two weeks ago Best Buy announced a major revamp.
Struggling to compete with online retailers, Best Buy is closing 50 so-called big box stores in the US during the next year .
"This is a company that had a sales guy in charge, and I just don't think they are well positioned to deal with the onslaught from the internet," said Michael Pachter, an analyst at Wedbush Securities.
"They have a big disadvantage to the internet retailers because they have a big cost structure. So they need a guy who can fix that rather than trying to sell more stuff."
Conditions have been hard for electronics retailers.
In 2008, Best Buy's rival Circuit City filed for bankruptcy protection.
Last week, credit ratings agency Standard & Poor's warned that it might have to lower Best Buy's credit rating, saying that its business model had problems.
Analysts say that Mr Dunn was slow to react.
"It's been on his watch that the company has been late to address all the industry upheavals, it's been late in closing stores," said Brian Sozzi, chief equities analyst at NBG Productions.
"Most importantly I think they've tossed money down the drain repurchasing shares under his watch too, cash that could have been stored on the balance sheet to address the future of increased online consumption of electronics."