Final-salary pensions deficit drops in March, PPF says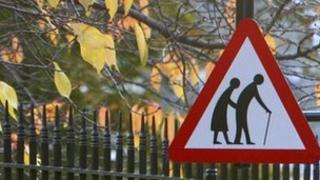 The collective deficit of the UK's private sector final-salary pension schemes continued to fall during March.
The deficit decreased from £222bn at the end of February to £206bn at the end of March, the Pension Protection Fund (PPF) said.
However, this compared with a near-£37bn surplus at the end of March 2011.
The figures come after the Pensions Minister Steve Webb said the government was looking at ideas for a secure replacement for final-salary schemes.
'Certainty'
The PPF said that there were 5,189 final-salary pension schemes in deficit and 1,243 schemes in surplus at the end of March.
On Monday, Mr Webb said that final-salary schemes had become too expensive for many private firms.
He said that 2012 marked the "high-water mark" for final-salary pensions, as a number of companies continued to close these schemes, especially to new staff.
Instead companies are offering defined contribution pension schemes, that rely on the performance of financial markets, making it hard for workers to predict their income in retirement.
However, Mr Webb wanted an exploration of schemes that might involve offering some certainty in the pension pot on retirement, which could then be invested.
Yet, some experts have suggested that this study needed to have happened before all the FTSE 100 companies had closed their final-salary schemes to new members.
"I fear that the government has come to this rather late in the day, ironically at the very point where millions of workers are about to be auto-enrolled into largely bog-standard defined contribution schemes," said Malcolm McLean, a consultant for Barnett Waddingham.
"Many employers who have had a bad experience with their final-salary schemes will now be reluctant to offer any sort of guarantees on pension entitlements be they limited to a cash balance scheme or something more extensive.
"That said, the industry should be prepared to work with the government to see what options exist and what can be achieved in this important respect."