Instagram's founders Kevin Systrom and Mike Krieger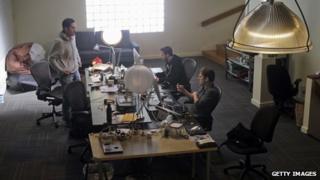 With Facebook planning to buy the Instagram photosharing business, its two co-founders, both around 30 years old, are expected to become very rich indeed.
Twenty-nine-year old Kevin Systrom is reported to be in line for $400m (£250m), while Mike Krieger, who he met while studying at Stanford University, is set to get $100m - barring any unexpected snags.
So what do we know about the latest boy wonders?
Giants
Kevin Systrom graduated from Stanford in 2006 with a BSc in Management Science and Engineering.
In his short business life since then he has graced the biggest names in social networking - first as an intern at Odeo - which later became the rather better-known Twitter.
He spent two years at Google - part of which he says was spent working on Gmail and Google Reader.
His business partner Mike Krieger was born in Sao Paulo, Brazil and came to the US in 2004 to attend Stanford.
His internship was at a less-up-and-coming company - Microsoft - which had ceased to be called a fast-growing wonder business and was simply a technology giant.
He wrote his Master's thesis on how user interfaces can better support collaboration on a large scale. After graduating, he worked at instant messaging firm Meebo for a year and a half as a user experience designer and as a front-end engineer.
Simple joy
The two were inspired to create the Instagram app - originally launched just for iPhones in the autumn of 2010 - but now available to Android users - by old Polaroid pictures.
These were the first widely-accessible instant pictures for consumers that did not mean waiting hours, or even days, to see how the shots turned out.
The pictures from these cameras were always square, rarely with colours that could be mistaken for true-to-life - just like those created with the filters which Instagram is known for.
Initially, they were working on another idea, but they ditched it for the simple joys of sharing photos, simply.
"We set out to change and improve the way the world communicates and shares," Kevin Systrom said.
The app was designed to work neatly with social networking sites - including of course Facebook.
The pair watched as 10,000 users downloaded it in a matter of hours. The number hit 200,000 in the first week.
Interviewed by the Crazyengineers website the following year, Kevin Systrom explained how the Instagram app works: "All filters are a map of input to output.
"It takes a pixel in and pushes a pixel out. In that way you can think of filters as simply a function."
He added that the speed the photos appeared was down to the lack of data needed to produce the image.
"The magic of fast uploads is simply that we're not uploading full resolution. Instead of uploading 3MB we upload 60kb. There's a huge difference in reliability when you're dealing with small data."
Independent running
The app's extraordinary growth means that less than two years after its launch, it now has 30 million users uploading five million photos a day.
With Facebook's chief executive, Mark Zuckerberg, saying the business will continue to run as if it was as an independent, the two will be watched to see it they can continue to expand this business further.
Mr Systrom last month spoke at an event at the SXSW Interactive conference entitled: "Is our photo madness creating mediocrity or magic?"
Its introduction read: "Over 100 million photos are uploaded to Facebook every day. There are 3.5 billion cameraphones in use around the world.
"Instagram reached 13 million users in just 13 months. We are nearing the end of what Philip Gourevitch of The New Yorker called 'the decade in which the world went camera-mad'."
Mr Systrom - who lists the New Yorker magazine as one of his interests on his Facebook profile - and Mr Krieger, must be hoping that that period won't be coming to an end any time soon.