Barclays boss Bob Diamond 'deserves no bonus'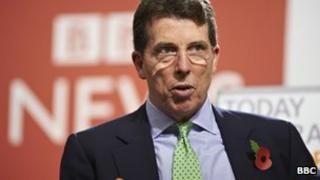 Barclays chief executive Bob Diamond should not get any bonus at all, according to a shareholders advisory group.
Pensions and Investors Research Consultants (Pirc) advised that shareholders should vote against the bank's executive remuneration report.
Mr Diamond earned £6.3m in pay and bonuses in 2011, though he still was not the bank's top earner.
Barclays' annual shareholders meeting is on 27 April.
According to Barclays annual report, Mr Diamond's pay package last year included a bonus of £2.7m.
However, Pirc put Mr Diamond's total remuneration at closer to £11.8m - nine times his base salary - based on how they calculated when he is able to cash in shares he was allocated.
"The value of awards given to the CEO could not be ascertained with reasonable accuracy owing to the rather confusing disclosure," Pirc said.
Barclays shares have dropped 26% in the past year.
'No circumstances'
The Telegraph reportedthat funds representing more than 6% of the bank's shareholders - including Standard Life, Fidelity, Aviva and Scottish Widows - will protest against Mr Diamond's pay award.
Pirc added: "In view of the fact that Barclays' shares are trading far below net asset value, we cannot think of any circumstances in which a chief executive who was part of a team when the bank got into that predicament should be receiving any bonus at all, indeed the board should also be considering claw backs itself."
This is a reference to Lloyds Banking Group, which is 40% state-owned and in February cut the bonuses of its senior management.
Lloyds cut £2m from bonuses paid to 13 executives, including the former chief executive Eric Daniels, over payouts for the mis-selling of payment protection insurance.
Pirc suggested the same should apply for Barclays.
Banks paid out £1.9bn in compensation in 2011 for the PPI mis-selling, the Financial Services Authority has said.
PPI was supposed to repay people's loans if their income dropped because they fell ill or lost their jobs, but thousands were mis-sold the policies.
"Net asset value" refers to the value of a firm's underlying assets once liabilities have been accounted for and is a measure of return on investment.
The FSA is also investigating claims that Barclays mis-sold complex financial contracts called swaps to business clients.