Hon Hai to raise workers' salaries as living costs soar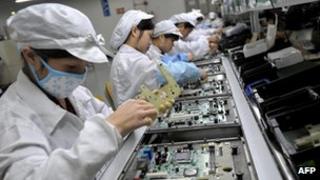 Hon Hai, the world's biggest contract electronics manufacturer, has said it will increase the salaries of its staff in Taiwan amid rising living costs.
The move comes as the government ends its subsidies on fuel, pushing up prices by as much as 10%.
There have been fears that electricity prices in the country may also rise in the wake of higher fuel costs.
Hon Hai, which employs almost 10,000 workers, said the salary increase is expected to be implemented from July.
Terry Gou, the company's chief executive, was quoted by the United Daily News as saying: "The staff is a company's biggest asset and we hope to ease the pressure of living for our Taiwanese staff through the salary adjustment".
Under pressure
Hon Hai is the parent company of Foxconn, which makes products for some of the world's biggest brands, including Apple.
The firm has been facing criticism over working conditions at its factories in China.
There have been allegations of poor working conditions, long hours and low pay for the staff.
Foxconn has already increased salaries in China over the past few months, with the latest rise announced in February resulting in an increase of up to 25%.
However, the increase has done little to douse the criticism.
Last week, a report by the Fair Labour Association found that workers at three manufacturing facilities run by Foxconn regularly clocked up more than 60 hours a week, exceeding China's legal limits.
The company has said it will work towards eliminating excessive overtime while maintaining salary levels.