Shop failures cost 10,000 jobs in first quarter - Deloitte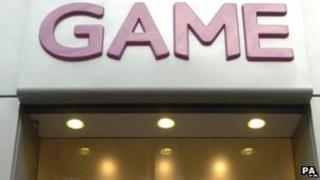 The number of retailers entering administration in England and Wales in the first quarter of this year was up 15% on a year earlier, says Deloitte.
The business consultant says 69 firms failed during the three-month period, compared with 60 a year earlier.
"The number of job losses that came as a result of these administrations was almost 10,000 out of the 22,000 employed by those companies," it said.
Among the firms hit were Past Times, Peacocks, Game, La Senza, and Blacks.
Meanwhile, the administrations figure for the first quarter was up by 64% on the previous quarter, when 42 retailers entered administration.
Online competition
"Whilst the quarterly rent day often sets the timing for the insolvency, a significant trigger in a number of recent administrations is that many retailers have too many marginal stores," said Lee Manning, restructuring services partner at Deloitte.
"As online retailing continues to grow whilst overall spending is weak, the fixed costs and poor performance of some stores drag on the overall business."
And he said job losses at firms entering administration were much higher than a year previously.
Mr Manning also said that to remain competitive, some retailers would have to rethink their business models "to be nimble and adaptable to changing consumer trends".
In total, the number of firms entering administration, excluding retailers, in the first quarter of the year saw a fall of 10% on 12 months before, from 497 to 447.
"Whilst conditions undoubtedly remain tough, the year-on-year decline is a positive indicator and gives a glimmer of hope that some industries are potentially over the worst," said Mr Manning.
Failing business
Overall, the total number of businesses - including retailers - which went bust in England and Wales crept up in 2011, after having fallen slightly in 2010.
There were 4,972 receiverships, administrations or company voluntary arrangements last year, up 1.3% on the previous year.
The number of firms that were liquidated - the end point of the insolvency process - was up 5.1% on 2010, to 16,871.
Meanwhile, a record number of Scots firms went bust during 2011. Some 1,278 Scottish firms failed last year, an increase of 17.2% on 2010.