JJB Sports shares boosted by US investment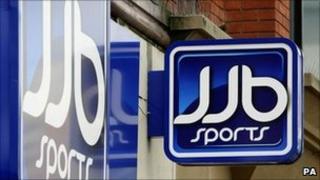 Shares in JJB Sports have risen more than 10% after the retailer announced a £30m investment package, which will see US retailer Dick's Sporting Goods take a stake in the firm.
The initial £20m investment from Dick's will purchase ordinary shares and convertible loan notes. Existing shareholders will invest £10m.
It came as Wigan-based JJB said pre-tax losses for the year to 29 January 2012 narrowed to £101.1m from £181.4m.
JJB shares closed up 4.6% on Thursday.
The UK retailer is in the process of a restructuring programme that includes closing 43 of its stores.
Revenues for the year fell 21.7% to £284.2m.
JJB said the year had been "extremely challenging" and said that sales had continued to fall since the end of its financial year.
Like-for-like sales for the nine weeks to 1 April 2012 were down 5.7%, while the company's net debt had risen to £20.6m from £11.3m at the end of January.
Store refits
JJB said that the investment from Dick's gave it the opportunity to draw on the US firm's experience in the sports retail market.
On conversion of its purchased loan notes, Dick's will become a controlling shareholder.
JJB said at least one representative from Dick's was expected to join the board.
The other £10m investment comes from four existing shareholders, including the Bill and Melinda Gates Foundation.
Dick's also has the right to buy a further £20m of convertible loan notes next year.
As part of the refinancing package, JJB said that supplier Adidas would provide security for a two-stage loan of up to £15m to fund store refits and that Bank of Scotland would extend existing loan facilities until May 2015.
JJB said it hopes to accelerate its store refit programme in time for this summer's European football championships and the London Olympics.
"We believe this investment package and strategic alliance with Dick's will provide a real opportunity to accelerate JJB's turnaround," said JJB chief executive Keith Jones.
"We have always said that the turnaround of JJB was never going to be easy or quick, and the current retail environment has made our work even more difficult."
On Wednesday, former JJB boss Christopher Ronnie was charged with seven offences relating to a £1m fraud by the Serious Fraud Office (SFO).
JJB said the SFO had confirmed in 2010 that an investigation into JJB had been completed, but that its investigation into individuals continued. It said it had co-operated fully with the SFO in relation to its investigation.