Renault-Nissan's Russian Lada alliance gathers pace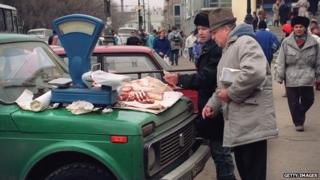 The Renault-Nissan alliance's Russian venture is taking off at last, four years after Renault firstacquired a 25% stake in Avtovaz, which owns the Russian car marque Lada.
It has been a rocky period.
Much of the optimism about the fast-growing Russian market that lay behind the deal was wiped out soon afterwards by the global economic crisis, which resulted in car sales in what had been one of the world's fastest growing markets suddenly grinding to a halt.
In September 2009,Avtovaz announced plans to cut 27,600 jobs, more than a quarter of its workforce, after having been rescued from bankruptcy by a20bn-rouble bailoutfrom then Prime Minister Vladimir Putin during spring that year.
A state-funded scrappage scheme during spring the following year helped liftAvtovaz out of the red.
And now, with the Russian market having bounced back, there is a renewed willingness to invest.
A new production line was inaugurated last week in the Togliatti plant, backed by a 400m-euro ($525m; £330m) investment, and plans are in place to produce not only Ladas here, but Renault and Nissan models too.
"Our collaboration is deepening every day and increasing economies of scale across the alliance," says Carlos Ghosn, chief executive of both Renault and Nissan.
Ambitious expansion plans
In about four years, the three marques aim to see a whopping 1.6 million cars per year roll out of the plant, making it one of the biggest assembly plants in the world.
"It's a win-win for all parties," says Mr Ghosn.
"The benefits keep accelerating as Russia becomes Europe's economic engine of growth."
Ernst & Young, a consulting firm, predicts that Russia will overtake Germany as Europe's biggest car market within three years, when sales should top 3.4 million cars.
Lada and its Japanese and French alliance partners currently command a 33% market share in Russia.
Lada is obviously the dominant marque in its home market.
The hope is clearly that its position should be cemented as it takes advantage of the technology and engineering expertise offered by its more advanced partners, while at the same time, economy-of-scale advantages help it compete on price.
But the alliance partners are not content with relying on the Lada brand alone, with ambitions growing by the day within both Renault and Nissan about what can be achieved in Russia.
One major hurdle remains, however, namely Mr Ghosn's ambition to take a majority stake in Avtovaz.
Talks have been ongoing for months without a deal being reached, though a decision is expected by the end of April.
"At the end of the month, I'm planning to visit Paris to meet Mr Ghosn and decide," Sergei Chemezov, head of stakeholder Russian Technologies, said last week.