Yahoo to cut 2,000 more jobs in new redundancy round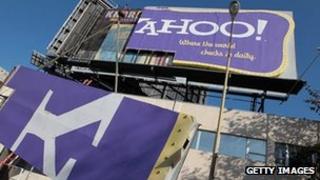 Yahoo is to cut 2,000 staff, 14% of the workforce, the company has confirmed.
The California-based company saidthe cuts were part of efforts to make it "smaller, nimbler, more profitable".
The web portal has 700 million users, but has failed to keep up with rival Google in the search engine business, while its popular webmail service has been overtaken by social media such as Facebook and Twitter.
Yahoo expects its cost-cutting programme to save $375m (£236m) a year.
However, severance pay is expected to cost the company a one-off $125m-145m. The affected employees will be notified later on Wednesday.
Shrinking revenues
It is the struggling company's sixth round of redundancies in the last four years, with the latest announcement bringing the total to almost 6,000 jobs losses.
This is the biggest round yet - beating the 1,500 laid off in late 2008 in response to the recession.
Yahoo has also changed its chief executive twice over in the same period, but has as yet failed to turn around its fortunes.
The company made a profit of $1bn last year, down from $1.2bn in 2010. More worryingly, revenues fell to $5bn from $6.3bn, at a time when rivals have seen rapid growth.
"You can't cut your way to revenue growth," said analyst Colin Gillis of brokerage BGC Partners. "What people want to see out of Yahoo is they want to see a plan and provision for revenue growth."
The firm said it would reveal more details of its new stategy when it releases its next set of results on 17 April.
"We are intensifying our efforts on our core businesses and redeploying resources to our most urgent priorities," said Yahoo's current chief executive, Scott Thompson, who joined from PayPal three months ago.
He said it would move "aggressively" towards its goal of putting users and advertisers first.
"Today's actions are an important next step toward a bold, new Yahoo," he added.
"Unfortunately, reaching that goal requires the tough decision to eliminate positions. We deeply value our people and all they've contributed to Yahoo."
Since arriving at Yahoo, Mr Thompson has also initiated a lawsuit against Facebook, accusing the rival firm of infringing 10 of Yahoo's patents.
The new chief executive has come under pressure from activist investor Daniel Loeb, whose hedge fund owns 5.8% of Yahoo, and who is pushing for the appointment of four new directors on Yahoo's 10-person board against the wishes of management.