JJB Sports ex-boss in court on fraud charge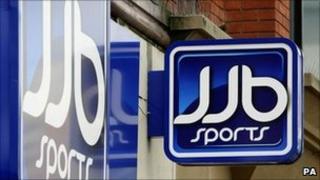 A former boss of retailer JJB Sports, Christopher Ronnie, and a JJB Sports supplier have appeared in court in connection with an alleged £1m fraud.
Mr Ronnie, who is 50, was the chief executive between 2007 and 2009.
He has been charged with three counts of fraud, two money-laundering offences and two counts of furnishing false information, according to the SFO.
The other man in court was David Ball, 51, whose company Fashion and Sport Ltd was a supplier to JJB.
The Serious Fraud Office said investigations into other possible offences by others were continuing.
Mr Bell is an accountant and joint owner of the JJB supplier Fashion & Sport Ltd.
He is charged with three offences of furnishing false information.
Mr Ronnie's lawyer, Anthony Barnfather at Pannone Solicitors, said: "Mr Ronnie has fully co-operated with the Serious Fraud Office (SFO) investigation and is surprised and disappointed at the decision.
"He strenuously denies the charges, has always maintained his innocence and is confident his position will be vindicated in due course."
Both defendants were released on unconditional bail.
The case was referred to the SFO by the Office of Fair Trading in 2009.
The SFO then announced it was investigating the activities of JJB and rival clothing chain Sports Direct International (SDI) in respect of potential offences.
An SFO statement said: "It was announced [in October 2010] that the SFO investigation into JJB and SDI had been completed and that no charges would be bought against the companies."
The statement continued: "It was noted that the investigation into individuals continued."
Earlier this year, JJB Sports began a restructuring programme that includes closing 43 of its stores.