Saving money on a staycation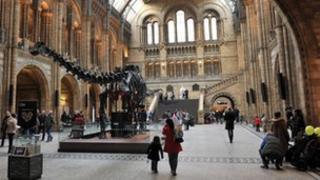 At the Natural History Museum in London, there is a 45-minute queue for the dinosaur exhibition, the noise levels are climbing by the second, and children are dashing around between the exhibits.
Welcome to the vivacity of the Easter holiday season.
Entry to this museum is free, as it is at many other museums and galleries across the country.
But, talk to parents, and they will say that the cost of days out with their families remains a key issue of concern during the holiday period.
Michael and Emma Griffiths have brought their family to London to celebrate daughter Katie's 10th birthday.
"We have had to purchase train tickets for five of us," says Mr Griffiths.
"We have had to get our lunch. We are going to the circus this afternoon, which costs quite a bit of money. And then we have got to get our tea, and also the train ticket home. So all in all, I'd say it will cost about £200 for the day."
Jason and Sally Hickling, from Lincolnshire, wanted to do something more educational than a beach holiday with their two girls. They have budgeted £1,500 for five days in the capital.
Elly Boakes is just up for the day. She has travelled from Lowestoft with her daughters. She says it is not easy.
"First there are the gift shops, then they want lunch, they want to eat out," she says.
"I love having them off school, but I do not know how I am going to afford the rest of the two-week holiday."
Michael Oliver is a senior retail analyst with research company Mintel. He says that as people feel the pinch, prices of attractions and days out become more important.
"Around two-fifths of people are cutting back on their leisure spending at the moment. One of the key aspects is that they are looking for value for money," he says.
"Around three-quarters say they are always on the lookout for deals. So if attractions want to keep their customers, that is what they really need to focus on."
Tourist boards for England, Scotland, Wales and Northern Ireland have taken this on board. They are running a campaign to persuade people to holiday at home or, as they call it, enjoy a staycation.
'Special year'
As well as adverts featuring the likes of Stephen Fry, actress Julie Walters and Harry Potter star Rupert Grint, they have set up a website especially for 2012.
It offers discounts of 20.12% on everything from accommodation and attractions, to events.
The number of people staycationing in England went up by 9% in 2011 compared with 2010, Visit England says.
Generally, 84% of all visitors to Scotland are from the UK. That figure climbs to 90% in Wales, the tourist boards say.
The equivalent body in Northern Ireland says its saw a 21% increase in those on staycation in 2010 from 2009.
"There are a million reasons why you should do it this year. It is a special year," says Sarah Long, of tourism body Visit England.
"We have got the Olympics, the torch relay throughout the country, the Queen's Diamond Jubilee, and the cultural festival with lots of free events.
"So as well all the fantastic things we have in terms of buzzing cities, fantastic coastlines, glorious countryside, we have also got these once-in-a-generation events happening this year.
"We have done some research with people who took a holiday in this country last year, and 85% said they had a really good or excellent time."
Saving tips
Miss Long says tourists can take easy steps to cut down on costs.
"There are really obvious things like taking a packed lunch, or making a really nice picnic," she says.
"That helps to save the pennies. And there are fantastic green spaces throughout this country that are completely and utterly free for a really lovely day out with the family."
Her top tip is to plan ahead.
"You won't believe how much money you can save when you buy an annual attractions pass. You can get those for lots of different destinations around the country," she says.
"Also, make sure you do your research and book your transport way ahead of time so you can get discounts on coaches and trains and all sorts of transport methods.
"Essentially, treat your holiday in this country as you would for one overseas. Do your research and you'll get a much better deal."