OFT orders investigation of private healthcare market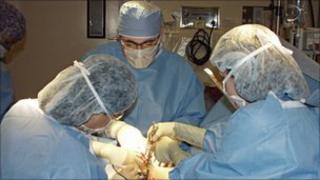 The Office of Fair Trading (OFT) has asked the Competition Commission to launch an investigation into the UK's £5.5bn private healthcare market.
Following a public consultation in January, the OFT said that it suspected competition was being restricted.
It said it "continues to hold the view that the private healthcare market could work better for patients".
The market is of growing importance due to an ageing population and improved medical outcomes, according to the OFT.
Among the concerns raised by the OFT are:
a lack of information about the pricing and quality of services that would enable patients to compare healthcare providers
the small number of healthcare providers and insurers nationally, which limits choice and competition
practices that make it harder for new competitors to break into the market, such as loyalty payments to consultants.
The Competition Commission has the power to demand that firms change business practices and spin off specific business interests, if it deems these to be harmful to market competition.
The investigation could take up to two years to complete.
"For too long, the cost of private healthcare has been rising to unsustainable levels, in large part because of a lack of competition and efficiency in the private hospital market and among consultants in private practice," said Dr Natalie-Jane Macdonald, managing director of Bupa, the healthcare insurance provider.
The sentiment was shared by David Mobbs, chief executive of the not-for-profit provider Nuffield.
"Patients need to have choice so they can be reassured they are getting access to the most appropriate care," said Mr Mobbs.
"This can only be achieved if the industry commits itself to providing transparent information about treatment options, quality and associated costs.
"This investigation offers a golden opportunity to get rid of some of the practices which have beleaguered the industry for years."
Mr Mobbs said that the investigation should go further, and look at the role of private medical insurers, of which he said two hold a market share of more than 70%.