Housing market broadly stable, says Halifax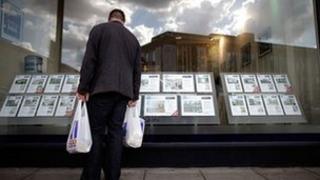 House prices are "broadly stable", the Halifax says, despite recording a 2.2% rise between February and March.
The lender says the current very low level of sales means that prices are volatile from month to month.
However, in the past three months, prices have dropped by just 0.1% and they are now 0.6% lower than they were a year ago.
The Halifax's survey suggests that the average UK home now costs £163,803, almost the same as in July last year.
Martin Ellis, the Halifax's housing economist, said: "The underlying trend therefore indicates broad stability in UK house prices.
"Efforts by first-time buyers to beat the expiry of the stamp duty holiday at the end of March have probably increased sales in recent months and may have helped to support prices.
"We continue to expect little overall movement in prices this year, provided that the UK economy does not suffer a pronounced weakening," he added.
The volatility of monthly house price movements is highlighted by the fact that last week, the Nationwide building society reported that prices had fallen in March by 1%.
However this left prices 0.9% down on a year ago, at an average of £163,327 - a picture very similar to that of the Halifax.
"The March jump [recorded by the Halifax] is likely due to the increase in first-time buyers trying to beat the end of the stamp duty holiday rather than the start of a sustained recovery," said Mark Harris of the mortgage broker SPF Private Clients.
"Tightening in wholesale funding has meant a number of key lenders have raised their mortgage rates in the past couple of weeks, some have increased their standard variable rates and others have tightened their interest-only criteria."
Separately, Moneyfacts reported that nine lenders had recently reduced the amount of money they were prepared to offer to interest-only borrowers.
Typically the lenders, such as Santander and the Nationwide, will now only agree an interest-only loan worth 50% of the property's value.
Others lenders, such as HSBC, are still prepared to lend more in this form, though they too have reduced the size of the maximum loan they will consider.
This trend is one of several factors suggesting that the mortgage rationing that has been in force since early 2008 is likely to become even more stringent this year.
Last week, the Bank of England reported that banks and other mortgage lenders were preparing to restrict their lending even more in the coming months, despite expecting to see a rise in demand from potential borrowers.