American Apparel 'exploitative' adverts banned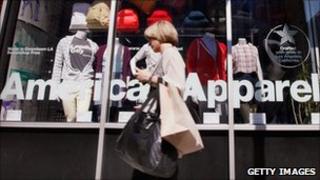 A series of website adverts by US clothing chain American Apparel has been banned by a UK watchdog for "gratuitous nudity".
The Advertising Standards Authority upheld a complaintthat the adverts were "exploitative" and likely to cause "serious and widespread offence".
The adverts showed young women baring their buttocks and breasts.
American Apparel denied the claims, comparing the images to ones that friends share on social networks.
In its response, the firm said that "it was important to judge what was and was not offensive by reference to the current times and the views of the majority of decent and reasonable people, not a small and puritanically-minded minority".
The ASA's investigation followed a single complaint that the adverts for socks, knickers and and sweaters were "pornographic".
"We told [American Apparel] not to use similar images, which were exploitative of women or that inappropriately sexualised young women, in future," the ASA said in its decision.
The US retailer has been struggling to turn a profit. A year ago, it warned there was "substantial doubt" that the firm could continue as a going concern.
It made a loss of $86m (£54m) in 2010 and a further $39m loss last year.