FSA fines JP Morgan banker Ian Hannam for market abuse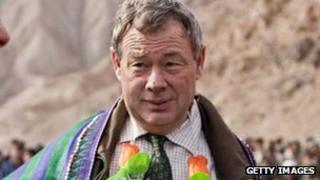 One of the City's top bankers, Ian Hannam, has been fined £450,000 by the Financial Services Authority (FSA) for providing inside information to a prospective client.
Mr Hannam has resigned as chairman of Capital Markets at JP Morgan Cazenove, and is appealing against the decision.
A former captain in the territorial SAS, he saidthe FSA's conclusionwas wrong and he had acted with integrity.
He said he was resigning to avoid being a distraction to staff and clients.
Mr Hannam had worked at what is now the JP Morgan group for 20 years.
The FSA said that while Mr Hannam had not deliberately set out to commit market abuse, his failings were serious because of his experience and senior position at JP Morgan.
It claims he disclosed inside information in two emails sent to a prospective client towards the end of 2008.
They contained information on Heritage Oil, a client of JP Morgan. Mr Hannam was the lead adviser to the oil exploration firm and its chief executive, Tony Buckingham.
On 9 September 2008 Mr Hannam sent an email to an unnamed client, who represented a company considering buying a stake in Heritage Oil.
"I thought I would update you on discussions that have been going on with a potential acquirer of Tony Buckingham's business.
"Tony, advised by myself, has deferred engaging with the client until Thursday of next week although we know they are very excited about the recent drilling results of Heritage Oil… I believe that the offer will come in in the current difficult market conditions at £3.50-£4.00 per share.
"I am not trying to force your hand, just wanted to make you aware of what is happening."
On 8 October 2008, Mr Hannam signed off another email to the same person with the line: "PS - Tony has just found oil and it is looking good."
'Challenge'
The FSA said it took the matter seriously because of his seniority.
"Inside information is extremely valuable and must be handled with care to ensure that it is properly controlled and that appropriate safeguards are observed," said Tracey McDermott, acting FSA director of enforcement and financial crime.
"This applies to all market participants but is particularly important for senior practitioners who will regularly interact with a wide circle of contacts."
In response, Mr Hannam said: "It is important to note that the FSA has not challenged my fit and proper status and has accepted that I acted with honesty and integrity.
"It has also accepted that I was acting in the best interests of my client and no one benefited or was damaged.
"I strongly believe, and have been advised by my legal counsel, that the FSA's conclusions are wrong and I look forward to challenging them in an independent tribunal."