Groupon shares fall after revised financial report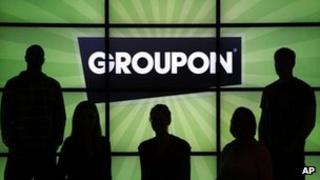 Voucher firm Groupon has seen its share price fall in New York overnight after saying its revenue and earnings were lower than it had reported in February.
That earnings overstatement admission saw its shares close down nearly 17% at $15.28 on the Nasdaq.
Groupon made its stock market debut in November at $20 per share and peaked above $31 a share.
The Chicago-based firm said on Friday the earnings over-estimate was due to accounting mistakes.
Customer returns
Groupon said it had underestimated operational costs and the amount of money needed to be put aside for customer refunds.
This was more likely to occur for more expensive deals, which buyers were more likely to return.
Groupon has now lowered its revenue for the last three months of 2011 by $14.3m (£8.9m) and its net income by $22.6m (£14.1m).
The readjustment meant Groupon's loss for the quarter was about $65m, compared with its previously-stated loss of $42.7m.
In February Groupon issued its first earnings report as a publicly traded firm.
It said it had failed to make a profit despite revenue nearly tripling from a year earlier.
UK probe
In March Groupon was given three months to improve the way it operates by a UK regulator.
An investigation by the Office of Fair Trading (OFT) found "widespread" examples of breaches of consumer protection rules.
The OFT has specific concerns over "pricing, advertising, refunds, unfair terms, and the diligence of its interactions with merchants".
Groupon agreed to change to ensure honesty with customers.