China looks to rebalance growth as it faces slowdown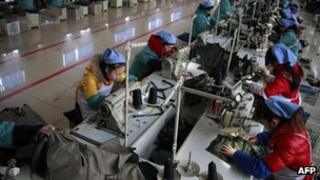 Drip by drip, the financial data coming out of China is leading some to ask serious questions about which way this economy is heading.
Purchasing managers are reporting falling factory activity, banks are reporting rising bad debts, and the property market is cooling dramatically.
There are still plenty of "China bulls" around of course, those who think the economy will continue its ever-upwards, breakneck trajectory.
But there are a number of reasons why the bearish, negative voices are growing louder.
Tough times
One place to look for troubling signs is China's factory sector, a part of the economy of course that has been at the heart of its recent success story, sending cheap goods around the world and creating jobs at home.
Not any more, at least, not in one factory I visited in Ningbo, a city three hours or so south of Shanghai.
Anne Queen makes clothes for European retailers, but her business is being squeezed by falling demand and higher costs.
"The main problem is that orders are moving to other countries," she tells me. "Like Vietnam, Cambodia and India."
I ask her why.
"Because the workers salaries and the material costs are going up," she replies.
Once the business employed 2,000 workers, today it's down to just 200.
It is this kind of experience that is leading many, China's government included, to question whether the tried and tested model for growing the economy needs to change.
'Future is sustainable'
Booming exports and massive infrastructure spending have allowed this economy to expand by 9% or more, for the best part of a decade, oblivious it seems to the global financial crisis.
But just as the going is getting tougher for China's factories, so it is for the construction industry, the other main engine of growth, as property sales fall in cities across the country.
Stephen Ellison works in China for Halcrow, an international civil engineering consultancy firm. He says there will still be opportunities but companies will need to compete harder for them.
"Some of the sectors that we work in will get tougher and we certainly expect that we'll need to continue to be competitive," he says.
"But we see that as an opportunity and a challenge. Provided we can bring efficiencies and good value to the clients we're working with in China, then I think our future is sustainable and very good."
Domestic boost
The recent batch of gloomy economic statistics - falling factory activity, falling property sales and falling earnings at key commodity producers - has rekindled the debate between China's bulls and bears.
Which view is proved right in the end will depend on how successful China is in one particular regard.
If it can no longer export or build itself to prosperity then it needs to find salvation in its own people's pockets.
So the number one priority for this year is to stimulate domestic demand.
While that is easier said than done, we should of course keep things in context. Even the most bearish of predictions would still have the economy growing by 3% or 4% a year.
That is a long way short of what China has become accustomed to, but an expansion that would, nonetheless, be the envy of any western country.
The government's own lowering of the growth target to 7.5% (from the 8% target in place since 2005) is an admission that things are changing.
But it would be more than enough growth to satisfy those trying to do business in China.
Revving up
Aston Martin is a luxury brand, one would think, unlikely to be opening car showrooms in China if it thought this economy was in for a hard landing.
I met Matthew Bennett, the company's regional director, in their brand new showroom in Pudong, Shanghai.
"This is the largest showroom that Aston Martin has in the world," he tells me.
"It's a real statement of our intent and the dealer's intent on the long term future of our market in China," he adds.
Whatever dark clouds might be looming on the economic horizon, it seems China's car-loving millionaires do not see any reason to stop spending just yet.