Sino-Forest files for bankruptcy protection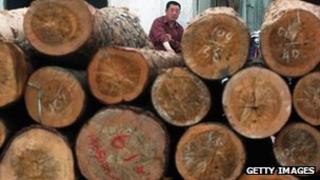 Chinese forestry firm Sino-Forest, accused last year of inflating its revenues and exaggerating the value of its timber holdings, has filed for bankruptcy protection in Canada.
The company said it would begin looking for buyers.
It also announced its intention to sue the research firm Muddy Waters that made the accusations for $4bn (£2.5bn).
Shares in Sino-Forest plunged last year following the fraud claims, which the company has strenuously denied.
In November last year, the firm said a committee had found no evidence of fraudulent activities, although observers cast doubt on the validity of its findings.
'Full value'
Sino-Forest said on Friday it had reached a deal with its creditors "which would involve either a sale of the company to a third party or a restructuring under which the noteholders would acquire substantially all of the assets of the company".
Chief executive Judson Martin said it was important the company be allowed to continue trading.
"We believe the full value of our assets will only be achieved if we are able to continue operating the business, and repair and preserve relationships with our customers and suppliers," he said.
Muddy Waters did not comment on the lawsuit, but said Sino's bankruptcy protection filing vindicated its accusations.
"This is yet another indication of what we have said all along, that Sino-Forest's management has committed a massive fraud and has deceived its shareholders and creditors," the firm said in a statement.
"If the company were really generating close to $2bn in operating cash flow, it would not have had to file for a court-supervised restructuring with its creditors."