Fuel queues: Businesses express fears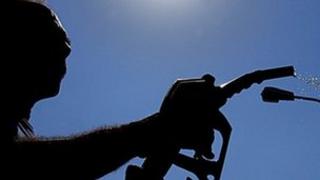 Some small businesses are already feeling the effect of disruption caused by the pressure of demand at the UK's petrol pumps.
One business group leader said that a fuel strike was the "last thing" that businesses needed in the current economic climate.
Earlier in the day, an Easter strike by fuel tanker drivers was ruled out by the Unite union.
But some organisations have already seen customer cancellations.
'Risk'
Paul Kielty is the manager of a small caravan park in Penrith, Cumbria. He said they had received a "flurry" of calls from holidaymakers wishing to cancel their bookings.
"Because of the fuel situation, they did not want to take the risk of not being able to get home," he said.
He only started managing the park four weeks ago and was hoping for a smooth start.
The calls have eased off since the announcement that there would be no strike at Easter, when the park is fully booked.
However, with only 70 pitches, he said just a few cancellations could affect the business.
John Longworth, director general of the British Chambers of Commerce (BCC), said that organisations such as this could not afford a fuel strike at any time.
"Employers are working flat out to keep their businesses afloat and deliver growth during challenging economic times. The last thing they need to contend with is a fuel strike, which could have a damaging effect on businesses across the UK," he said.
"Not only will firms struggle to access the goods they need to run their business, staff will not be able to get to work, and smaller companies will be forced to shut down and lose takings.
"Public services could end up being affected, and parents who cannot get childcare will have to take time off and lose pay. Furthermore, too many UK jobs depend on sending goods to ports and markets overseas.
"People have already started panic buying, which will lead to further shortages and make the problem even worse."
'Right to strike'
However, the panic buying is by no means nationwide.
A number of businesses have said that they have been able to operate as normal.
Adrian Braithwaite, who chairs the Wakefield Driving Instructors Association, said instructors had sometimes needed to queue for five minutes to fill up, but this had not affected their work.
The Unite union said it retained the right to strike after Easter.
Unite's drivers, who deliver fuel to Shell and Esso garages and supermarkets such as Tesco and Sainsbury's, have called for minimum working conditions covering pay, hours, holiday and redundancy.