France's deficit shrinks in 2011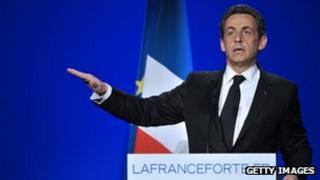 France's public sector deficit shrank to 5.2% of gross domestic product (GDP) in 2011, statistics agency Insee said.
That was down from 7.1% in 2010 and beats the official target of 5.7%.
President Nicolas Sarkozy welcomed the improvement in public finances, saying he was delivering the reductions he promised that should eliminate the deficit by 2016.
The state of the nation's finances has become a big issue in the presidential election campaign.
France's deficit and total debt pile remain well above EU targets.
The country's debt expanded in 2011 and is now equivalent to almost 86% of GDP. The EU target is 60%.
Insee said public spending slowed last year and tax returns rose to 43.8% of GDP, up from 42.5% in 2010.
The first round of the presidential election is on 22 April.