Barclays hit by online banking delays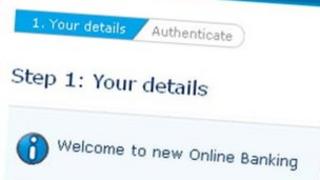 Some Barclays customers are facing delays trying to log on to the bank's online service as a rebuilt site is phased in.
Customers have complained about the new website being slow to load, on one of the busiest days of the month for transactions.
A Barclays spokeswoman said 10% of online customers faced delays.
She said staff were working on the problem which should be resolved by the end of the day.
About 90% of customers were able to instantly access the website, she said, on a day when many people are paid and others transfer cash for the weekend.
"We apologise to customers who may be experiencing slow responses from Barclays online banking," she said.
"We are seeing higher than normal volumes of traffic but the service remains available and we are working on the response times during the course of today."
Barclays has been attempting to upgrade its online banking service, with customers being linked to the new service steadily since January.
But a string of customers have taken to social networking websites to complain about a slow connection.
Barclays topped the list per brand of consumer financial complaints during the last six months of 2011, according to figures published on Wednesday by the Financial Services Authority.
Some 281,000 complaints were made to Barclays in the second half of 2011, up from 251,500 from January to June. The vast majority were claims about payment protection insurance (PPI) mis-selling.