PetroChina overtakes Exxon as biggest oil producer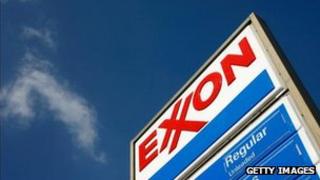 US giant Exxon Mobil has lost its crown as the world's biggest listed producer of oil to PetroChina, figures suggest.
The Chinese firm said it produced 886.1 million barrels of oil last year - the equivalent of 2.43 million barrels a day. In January, Exxon said it produced 2.3 million barrels a day.
Exxon's production fell in 2011 by 5%, while PetroChina's rose 3.3%.
Exxon remains the more valuable firm, with a market capitalisation of $400bn (£250bn) against PetroChina's $280bn.
The development comes as US President Barack Obama proposed scrapping subsidies and tax breaks for oil companies "raking in record profits".
Exxon remains more profitable than PetroChina, making a net profit in the final three months of last year of $9.4bn.
According to figures from the Reuters news agency, state-owned PetroChina made $4.7bn over the same period.
Not surprising
Production at Exxon has been falling as older fields start to run short of oil. Some of the company's overseas contracts also limit the amount of oil it can produce. For these reasons, Exxon has said it expects production to fall again this year.
In contrast, PetroChina expects production to increase during 2012.
Analysts said the news that the Chinese company had overtaken Exxon was not surprising, given the more competitive nature of the US oil market.
"If you look at total oil production, the US is still quite a long way [ahead] and produces twice as much as China does," said Julian Jessop, commodities analyst at Capital Economics.
'Ineffective plan'
President Obama's comments came amid a backdrop of rising domestic petrol prices, and correspondents say the issue could become a political flashpoint in an election year.
"The biggest oil companies are raking in record profits - profits that go up every time folks pull into a gas station," the president said in remarks at the White House.
"You're already paying a premium at the pump right now. And on top of that, Congress thinks it's a good idea to send billions more of your tax dollars to the oil industry."
Many Republicans have argued that the president has not done enough to encourage domestic oil production.
A bill that would end the subsidies for the oil industry was defeated in the Senate soon after President Obama spoke, falling short of the 60 votes needed to pass.
Opponents of the measure have said raising the tax burden on oil companies would not be effective.
Republican leader in the Senate, Mitch McConnell said: "At a time when gas prices are at a national average of nearly $4 a gallon, this is what passes for a response to high gas prices for Washington Democrats - a bill that does nothing about it."