Tepco needs $22bn more for nuclear compensation claims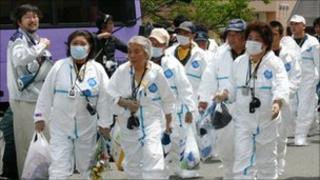 The power company behind Japan's Fukushima nuclear plant disaster has asked for another 1.85tn yen ($22.4bn; £14.1bn) in aid.
The Tokyo Electric Power Company (Tepco) said it needs another 846bn yen for higher compensation claims.
It wants the remaining 1tn yen to keep the company afloat, including covering the cost of shutting down the plant.
Radiation leaked at Fukushima after it was damaged by last year's earthquake and tsunami in Japan.
Some 80,000 people had to be evacuated from the surrounding areas.
Tepco now says it needs 2.55tn yen in compensation- up from its previous estimate of 1.7tn yen.
Tepco is seeking the additional 1tn yen in financial support from the state-backed fund "in order to prepare for necessary compensation payouts, the steady decommissioning of Unit 1 to 4 at Fukushima Daiichi Nuclear Power Plant, securement of sufficient capital for stable power supply, and early bond issuance to be able to raise funds independently".
Last month, Tepco shareholders sued the firm's directors over their role in the Fukushima nuclear plant disaster.
And the Japanese government approved additional aid of $9bn for Tepco to help it pay for compensation claims.
The developments at the Fukushima nuclear plant have had a big impact on Japan's nuclear energy sector.
Almost all of the country's 54 nuclear reactors have been shut over fears about the safety.