Clinton Cards says outlook worse than expected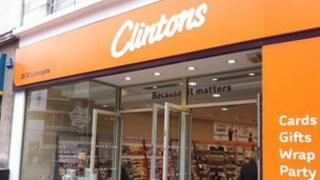 Clinton Cards has warned that the outlook for its full-year results is worse than it had previously expected.
The retailer reported a pre-tax loss of £3.7m for the six months to the end of January, having made a profit of £11.7m in the same period a year earlier.
It said margins had been significantly weaker as a result of clearing old stock in the January sales and increased sales of lower margin gifts.
It is undertaking a strategic review under its new chief executive.
"The outlook for the second half of the current year is below our previous expectations but the changes we are undertaking to the business will deliver significant benefits in future years," said Darcy Willson-Rymer, who took over in October.
"This has been a challenging period in a difficult retail environment, dominated by weak consumer confidence," he said.
As part of the restructuring plans, 17 Clintons-branded stores have been closed as well as 17 Birthdays-branded stores.
Chairman Don Lewin has agreed to stay on at Clinton until the end of July.
"With the store portfolio undergoing significant restructuring and the management team and the board strengthened, the business now has the ability to be stronger," Mr Willson-Rymer said.
"However, the legacy of the business cycle means that significant impact will only begin to come through from the end of the second half of the financial year."