China introduces trial economic reforms in Wenzhou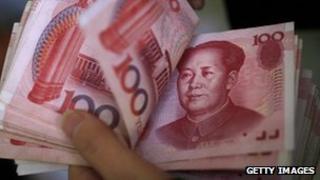 China has announced a trial reform package for the city of Wenzhou, where businesses have been hit hard by a cash crunch.
Under the programme residents in the city are allowed to invest privately overseas and set up loan firms.
It comes after the government's tight monetary policy has made it harder for companies in Wenzhou to get funds.
If successful the Wenzhou package could be introduced in other parts of China, the State Council said.
"Owners fled"
The cash crunch lead to dozens of cases of bankruptcy in the city.
"In recent years, some of the small and medium-sized companies ran out of capital and some business owners fled," the State Council said in a statement on Wednesday.
Wenzhou, in the south-eastern Zhejiang province, is a major manufacturing centre for eye glasses and lighters, and most of them are made by small businesses.
The proposed loan companies would help small manufacturers overcome a reluctance from big state-owned banks to lend to them because of the higher credit risks.
They prefer lending to the large state-owned companies.
The decision was called a "milestone" by Wang Jianhui, chief economist with Southwest Securities, as it showed the government was willing to lead "the reforms that are urgently needed".
"Investment Opportunities"
Last year, the local government of Wenzhou had proposed to give its residents more freedom to invest overseas.
However, the plan was dropped because it did not get the federal government's support.
With the latest approval, though, residents will be able to invest in foreign investments which offer higher returns.
Still the State Council has not specified how much investment it would allow local investors.
"I see a lot of new investment opportunities coming up," said Zhu Jianfeng, general manager of Gold Emperor Group, a Wenzhou-based shoemaker.
"We will wait for the full details to emerge and then see what we can really do."