Burma gives details of next month's currency float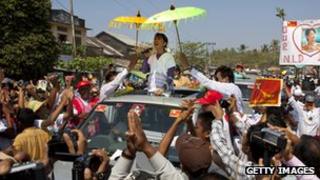 Burma has given more details of the managed float of its currency, which will begin on 1 April.
The Central Bank of Myanmar (Burma) said the currency, the kyat, will "from now on be determined by supply and demand".
It has also said the government may extend loans and subsidies to state-run firms to protect them from the impact.
The process of unifying the country's exchange rates could take two to three years.
The currency float is a key part of Burma's reforms, which have been implemented since a civilian government, albeit one led by former generals, took over from the military last year.
'Eliminate restrictions'
The current official exchange rate pegs one US dollar at 6.41 kyat.
However, analysts said when it is floated, the currency could be valued around 800 kyat to the dollar, which is the current unofficial or black market rate.
Under a managed float system a currency's exchange rate is determined by the market.
At the same time the central bank publishes a daily reference exchange rate to influence the market.
"A key part of this programme is to unify the various exchange rates, and gradually eliminate restrictions on current international payments and transfers abroad," said the Central Bank of Myanmar in a statement to state media.
Opening up?
Resource-rich Burma wants to attract foreign investment to offset the impact of Western sanctions, however the multiple exchange rates have deterred investors in the past.
Burma is rich in gas, timber and precious stones.
Analysts said this was a positive step in dealing with corruption as well.
"It removes many of the difficulties and corruption incentives that have been in place with this dual [currency] system," said Sean Turnell, a Burma expert at the Macquarie University in Sydney.
Key parliamentary by-elections are also being held on 1 April, in which pro-democracy leader Aung San Suu Kyi will be contesting one of the seats.
Several Reforms
Burma's military leaders refused to recognise her National League for Democracy (NLD) party's election victory in 1990.
A total of 45 seats in parliament are being contested in the 1 April vote.
The elections are unique because for the first time the government has allowed foreign election observers, with representatives from the US, EU and Asean due to observe the vote.
The currency move comes after other reforms by the new government.
In recent months it has released hundreds of political prisoners, introduced media freedoms and allowed Ms Suu Kyi to run for a seat in parliament.