London and New York 'to remain world's top cities'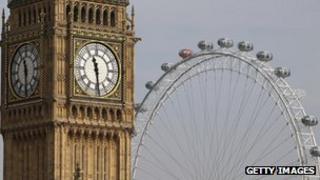 London and New York will remain the most important world cities for wealthy individuals over the next decade, research suggests.
However, Beijing and Shanghai are seen by high-net-worth individuals as the most important up-and-coming cities, according to the Wealth Report compiled by Knight Frank and Citi Private Bank.
The research also notes the "relentless shift" in wealth towards Asia Pacific.
It forecast the number of people worth $100m (£63m) would grow by 40% by 2016.
London ranked top in three of the four categories on which the world's cities were judged in the report - quality of life, knowledge and influence, and economic power.
Washington came top in the final category of political power, with London second.
Monaco remains the most expensive residential location, with one square metre worth on average $58,300, followed by Cap Ferrat, London and Hong Kong.
"This year's Wealth Report contains even more evidence that the world's wealthy are weathering the economic slowdown better than the wider population," said its editor Andrew Shirley.
The survey represents the opinions of more than 4,000 individuals worth on average more than $100m.