Oil price dips as governments consider tapping reserves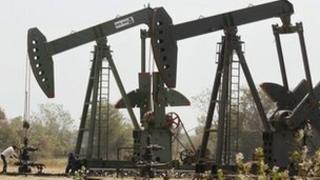 The price of oil has fallen as a number of key nations consider releasing reserves to increase supplies.
Brent crude oil fell $1.56 to $123.98 a barrel, while US light crude fell more than $2 to $105.11.
French ministers said they were discussing with the UK and US plans to tap oil reserves to help calm the volatile oil price.
Figures showing a larger-than-expected increase in US oil inventories also helped push the price down.
Last week saw the biggest rise in stocks of oil in the US since July 2010.
Just as the price of oil rises as demand increases, it falls as supplies go up.
French government spokeswoman Valerie Pecresse said Paris was waiting to hear back from the International Energy Agency on a joint plan with the US and UK to release oil reserves "to counter speculation on global energy markets".
Germany also indicated it would consider proposals to tap into its reserves.
The price of oil has risen sharply this year, partly because of tension in the Middle East and Iran.