US durable goods orders bounce back in February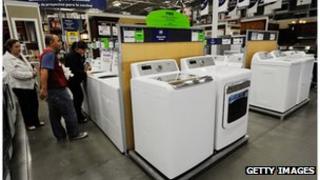 Orders for durable goods in the US rose by 2.2% in February, recovering partly from a drop of 3.6% in January, official figures have shown.
Total orders for the goods - defined as items which last at least three years - hit $211.8bn (£133.6bn) in the month, the Commerce Department said.
Greater demand for aircraft, machinery, computers and communications equipment helped to drive the increase.
Orders have now risen in four of the past five months.
Excluding transportation, orders rose by 1.6%.
The figures were slightly lower than analysts had expected, and together will falling oil prices they helped push shares lower on Wall Street.
The Dow Jones index closed down 72 points, or 0.5%, at 13,126.
On Tuesday, figures suggested consumer confidence slipped in March, while house prices fell in January, albeit at a slower pace than in the previous month.
"The economy is slowly improving, but it is definitely a halting recovery where we're not accelerating to any great degree," said Liam Dalton at Axiom Capital Management in New York.