Former Cattles directors fined and banned by FSA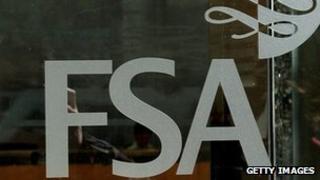 Three former directors of the sub-prime lender Cattles and its subsidiary Welcome Financial Services have been fined and banned by the Financial Services Authority (FSA).
The FSA found that they had published misleading information to investors about the quality of their loan book.
James Corr has been fined £400,000, Peter Miller £200,000 and John Blake £100,000.
Mr Blake is challenging his fine and ban in the Upper Tribunal.
The bans will prevent them taking on any functions in any activities regulated by the FSA.
Mr Corr was the finance director of Cattles, Mr Miller was finance director of Welcome and Mr Blake was managing director of Welcome.
The FSA found that Cattles' 2007 annual report said that only £900m of Welcome's £3bn loan book was in arrears, when the accurate figure was about £1.5bn.
Cattles also announced a pre-tax profit of £165.2m for 2007 when, if accounting standards had been properly followed there would have been a pre-tax loss of £96.5m.
The figures were also used in the prospectus for a 2008 rights issue, which raised £200m.
Misleading deferments
When the actual state of the loan book emerged in 2009, Cattles shares were suspended, and people who had bought into the rights issue at £1.28 eventually received only one penny for each share.
The FSA has also censured both Cattles and Welcome and said it would have fined them had it not been for their financial circumstances.
Cattles is no longer trading, while Welcome is running down the loan books of both firms, but is not taking on new business.
The accounts were misleading because the companies routinely used deferments, which meant that if borrowers missed an instalment it would just be added on to the end of the repayment period, usually without contacting them.
The loans would then be declared up-to-date, when 2007 accounting standards meant they should have been considered as in arrears.