Foxconn owner Hon Hai to buy stake in struggling Sharp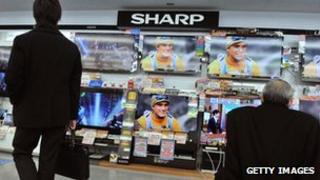 Hon Hai Group, the owner of Apple supplier Foxconn, is to invest 133bn yen ($1.6bn; £1bn) in the Japanese electronics maker Sharp.
The tie-up is designed to boost Sharp's LCD (liquid crystal display) business, which has been losing money.
The deal comes as the company faces stiff competition from Chinese and Taiwanese companies.
Sharp has forecast a net loss of 290bn yen ($3.8bn; £2.2bn) for the year ending 31 March.
'Timely action'
"The market surrounding the electronics industry is becoming severe," Sharp said in a statement on Tuesday when the deal was announced.
"We believe that timely action is necessary to tackle these changes in the market."
Sharp said it plans to sell a 9.9% stake to Hon Hai Group for 66.9bn yen.
Hon Hai and its founder Terry Gou also plan to buy a 46.5% stake in Sharp Display Products, a joint venture between Sharp and Sony located at Sakai, for 66bn yen.
Analysts said that this would benefit Sharp which has struggled with weaker demand for its LCD units.
"This is positive for Sharp as it will allow them to share the current deficit at the Sakai plant," said Kazuhara Miura from SMBC Nikko Securities in Tokyo.
Sharp said in its forecast in February that bigger-than-expected price declines in LCD colour televisions and solar cells, and the overall global economic slowdown, were putting pressure on earnings.
Sharp rises
Shares in Sharp rose 15.15% on the Tokyo Stock Exchange on Wednesday hitting a daily limit, after which the stock was suspended from trade.
The stake sale is expected to benefit both of the companies.
Sharp is expected to benefit from the cashflow and its manufacturing costs are likely to come down.
Hon Hai is likely to receive more contract manufacturing orders from Sharp.