Diamond Jubilee to hit UK economy, says Mervyn King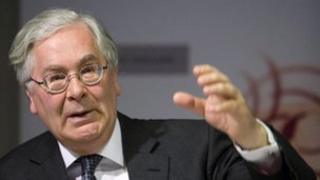 Sir Mervyn King, the Governor of the Bank of England, has said he expects the UK economy to contract between April and June due to the Queen's Diamond Jubilee bank holiday.
Speaking to the House of Lord's Economic Affairs Committee, he forecast a repeat of last year, when the Royal Wedding bank holiday hit output.
Last month, he predicted a "zig zag" of positive and negative growth this year.
But he said the UK economy would avoid returning to recession.
Overall, the Bank expects the economy to grow by 1% this year.
In the Budget last week, the independent Office for Budget Responsibility (OBR) increased its own growth forecast.
It predicted growth of 0.8% in 2012, compared with its autumn estimate of 0.7%.
The UK economy shrank by 0.2% in the final three months of last year. Most analysts expect to economy to post modest growth in the current quarter.
The Diamond Jubilee bank holiday will take place on 5 June, the day after the Spring bank holiday.