Easyjet to trial giving allocated seats to passengers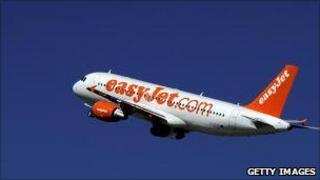 Low-cost airline Easyjet says it will trial giving passengers boarding passes with allocated seat numbers.
It will start offering them on a number of limited routes.
People wanting emergency exit seats with extra leg room will pay £12, those wanting front row seats £8, while those picking seats elsewhere will pay £3.
EasyJet will then allocate remaining passengers seats free of charge, with those on the same booking reference as close together as possible.
Travellers on rival Ryanair can currently pay £10 or 10 euros to reserve seats in the first two rows or those next to emergency exits in the middle of the plane.
Easyjet passengers on flights from Luton to Sharm el Sheikh, Malaga, Alicante and Istanbul and flights from Glasgow to Alicante are part of the trial.
Easyjet says the aim is not to make money from another extra charge and will be "revenue neutral".
It says set against the money passengers pay, it will cost it £5m in computer expenses to adapt its booking system.
'Stress'
Easyjet's chief executive, Carolyn McCall, said: "Our aim is to make travel easy and affordable for all our passengers."
She said some passengers found the boarding free-for-all common to low-cost airlines a nuisance.
"It can stress people out, the boarding experience. With Easyjet, they may not be used to the way we board. It can be a barrier to travelling with us. People are just not used to unreserved seating."
The airline has been trying to attract more business passengers.
On Monday, Easyjet said its six-month losses will be lower than previously forecast.
The low-cost airline is predicting losses for the six months to the end of March of between £110m and £120m, down from its previous forecast of £140m to £160m. In the first half of the previous year, it lost £153m.
Easyjet saved money because a mild winter meant there was less disruption to flights.
The airline also announced a 10% increase in revenue per seat.