Osborne denies leaking 2012 Budget details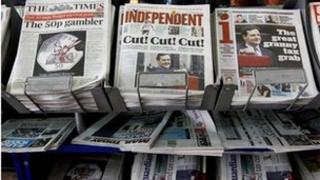 Chancellor George Osborne has denied that key facts about the 2012 Budget were leaked from his team.
Speaking to the Treasury Committee, he said no minister in his office disclosed information about changes to tax allowances ahead of the Budget announcement.
More details from this year's Budget were published in advance than in living memory.
They included advance notice that the top 50p tax rate would be withdrawn.
Mr Osborne said he was angry that tax changes were widely known before his official Budget statement was given in Parliament.
He added that no Treasury official, minister or special adviser briefed the media on changes to tax rates or allowances.
He said he did not know where those stories came from and would rather they had not appeared.
Constraints
Mr Osborne, who had been critical in the past when advance news of the Labour government's Budgets appeared, said he was the first chancellor to have to deal with the two factors of coalition government and the constraints imposed by the Office for Budget Responsibility.
He explained that he had to have the details ready 10 days in advance so that they can be approved by the Office for Budget Responsibility, and then signed off on the Friday before the Budget is due to be announced.
Mr Osborne added the measures also had to be agreed by a wider group of people, because of the involvement of the Liberal Democrats in the coalition government.
The MPs also spoke to the Permanent Secretary to the Treasury, Sir Nicholas Macpherson, about how the Budget culture has changed since he began work at the Treasury 27 years ago.
Sir Nicholas said the process then was much more secretive and people would have been appalled by what happens now. He added that he was confident that Treasury officials had not been responsible for any leaks.