Opel and Vauxhall face tough future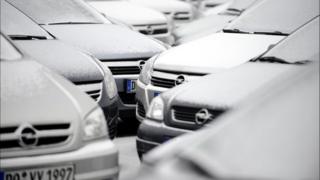 The struggle to transform Opel and its UK division Vauxhall into a profitable enterprise has lasted for more than a decade.
But in spite of plenty of restructuring and reform taking place, the carmaker lost some $750m (£472m) last year.
So far this year, its sales have fallen by about a fifth compared with the same period a year ago.
And ahead of a meeting of Opel's supervisory board this week - where a five-year game plan is set to be hammered out - there is growing concern that the US parent company General Motors is losing patience and preparing to close one or two of its European factories.
Opel's chairman Steve Girsky, who is also vice-chairman of GM, is eager to stress that the carmaker will honour an agreement with its worker to keep all its European factories open - at least until 2014.
"We're committed to Opel and Vauxhall in Europe," he says.
"This company has made a lot of improvements.
"We think we build great cars. We think the customers love our cars. If the [economic] environment in Europe had not turned during the second half of 2011, we would've been close to breaking even."
The market is king, however, and as car sales in Europe are set to slip some 5-6% this year, there is little sign of relief from Opel and Vauxhall's customers.
With revenues falling and plant closures out of the question for the time being, the carmaker's only choice to get back in the black is to cut costs.
"It can't just be about labour costs," says Mr Girsky. "It's got to be about other costs as well, such as material costs. And we've got to grow revenue."
Global rivalry
An alliance with French carmaker PSA Peugeot Citroen should help with some of this, though medium- to long-term it seems clear that Opel and Vauxhall will be considered in parallel with GM's other manufacturing plants across the world.
In other words, the carmakers' factories in Germany or the UK will have to compete with GM facilities in, say, Poland, Mexico, Korea or China.
"Decisions made in Europe are not made in isolation," observes Mr Girsky. "They are made with the global footprint in mind."
The way he sees it, it is a question of simple economics.
"I don't want to be Machiavellian about it, but we're operating in a competitive system, right?" he says.
"What's the cost of building a car in one part of the world and landing it in another, versus building it there?"
Competing on cost with factories in countries less developed than the UK or Germany may be daunting for workers in GM's Ellesmere Port and Bochum factories.
They know it will be difficult to win the right to build future models, such as the replacement for the Astra or the petrol-electric Ampera.
To them, the assurance from management that no factories will close until 2014 offers cold comfort.