Rich and poor share sport fishing passion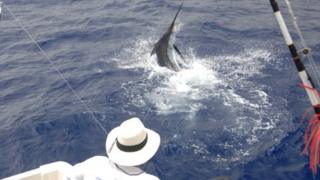 The dance music is pumping onboard the MY Balancal.
The skipper, Captain Anibal Fernandes, recognised as one of Madeira's most experienced fishermen, nods his head and taps his hands on his knees in time to the beat.
Deckhand Claudio D'Agrella wiggles his fingers on outstretched arms in the spirit of a little chant to the fish gods in the sky.
This is not the beginning of any old boat trip filled with high expectations.
Instead, hopes are high that this will be the day when the blue marlin - the ultimate fighting fish and majestic monster - is hooked.
Unforgettable sight
In the world of sport fishing, the blue marlin constitutes ultimate bragging rights, where outstretched arms are too small to provide visual illustration to the cliche of "it was this big".
"About 13 or 14 years ago I saw my very first ever marlin caught, and it was actually with Captain Anibal," says Paul Watson, owner of Marlin World Magazine
"Suddenly, I just saw this fish 'greyhounding' across the surface, and she must have been travelling 50 or 60 kilometres an hour.
"It just looked like an aeroplane had come in and crash-landed on the water, and it was so close to the boat.
"The excitement of watching that, and seeing the crew doing their job. . . and then seeing a 900lb marlin come alongside is quite exhilarating.
"Once you see this happen, you will remember it for the rest of your life."
'Money no object'
People from across the globe come to Madeira for the opportunity to pull in a blue marlin, with the help of Captain Fernandes and Mr D'Agrella.
The charter fee of 1,300 euros ($1,700; £1,000) per day is usually of no consequence for the customers, "usually the owner or president of a very large company", observes MY Balancal's owner, Jonathan Fletcher.
"They have incredibly few days holiday, so when they do come money is absolutely no object," he says.
"They will eat in the best places, they tip massively, and if you then catch them a big fish, everyone is very well rewarded."
Not about food
Captain Fernandes has been the skipper of MY Balancal for almost five years, after spending 20 years fishing commercially in South Africa, then skippering a number of boats in his native Madeira.
First it was the Anguila, which caught and tagged more than 80 blue marlin during his first season, then Lara Jade and Margarita, which saw anglers pull in almost 20 "granders".
But although the fish are big, this is not about putting food on the table. In fact, the blue marlins caught by these operators are always released as the species is endangered.
"What sets sport fishing apart are the rules," says Jeff Mackin, education coordinator at the International Game Fish Association's School of Sportfishing.
"It isn't subsistence fishing, in which the sole point of catching the fish is for food. It is a sport.
"Recreational fishing is qualified by the inclusion of rules designed to ensure that the angler doesn't have an unfair advantage over the quarry."
Complicated and technical
At its most basic, to go fishing you need a rod, reel, line, hook, and bait.
"To that point, I can take exactly that tackle, go down to the nearest lake or beach, and I have a shot at catching a world class fish," says Mr Mackin.
But although it is simple at a basic level, sportsfishing can also be fiendishly complex.
National or regional habits make angling a very technical hobby, with as many techniques as there are types of fish, explains Jean-Claude Bel, chief executive of the European Fishing Tackle Trade Association.
"In fresh water, there is lure fishing, spinning, live bait fishing, dead bait fishing, natural bait fishing, artificial bait fishing, match fishing, fly fishing, coarse fishing, and jigging fishing," he says.
"In salt water, we find more or less the same techniques adapted to the sea, which can be shore or boat fishing."
Lucrative activity
But if fishing itself is complex, the intricacies of the industry that serves Europe's 30 million regular or occasional angles are even more daunting.
Some 12,000 specialised dealers and sport chains clock up annual sales of up some 3bn euros, according to Mr Bel.
That is not counting transport to and from the ponds, or spending on lodging or boats.
Hence, when measured in terms of its economic contribution, angling is the most important sporting or outdoor activity, not only in Europe but in the USA and Japan as well, Mr Bel insists.
The American Sportsfishing Association's Mary Jane Williamson agrees.
"Recreational fishing generates over $45bn (£28bn) in retail sales with a $125bn impact on the US economy," she says, referring to a national survey conducted by the US Fish and Wildlife Service.
Growing sales of kit, ranging from child friendly tackle to advances electronic gear that makes it easier to track down good fishing grounds, has helped create employment for more than a million people, according to Ms Williamson.
And more than 80 million Americans have ventured outdoors to enjoy fishing, she says.
Passion for fishing
Sport fishing as a commercial venture does not gel well with its image as a pursuit aimed at relaxation and freedom from rules, regulation and commercial pressures, however.
As such, Europe's often young "street fishers", who throw their lines from bridges into urban rivers that have been cleaned up in recent years, may have discovered something many have not.
But that is not to say it is all plain sailing for everyone who wants to go fishing.
Public access to water, especially from shore, is increasingly scarce, laments Mr Mackin. Besides, rules and regulations often make things difficult, with some fish populations receiving too much protection while others are getting too little, he explains.
For those with money, none of this poses a problem. Fresh and salt-water American-style tournaments, with powerful over-equipped boats, are popular and entice many younger anglers. Some anglers even fork out vast sums to go fishing in exotic destinations all over the world.
But whether they are hoping to hook a big-game fish or something smaller, anglers - both rich and poor - share a passion for the sport.
'What makes sport fishing so special is the connection the angler has to the fish," says Mr Mackin.
"Unlike hunting, trapping, netting, long lining and so on, it is physically you against the fish, so the self-imposed rules of the game make it a much more unique experience."