Irish PM says Ireland and China 'surprisingly similar'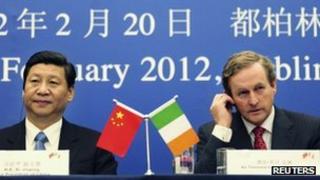 The Irish prime minister has said that the Republic of Ireland and China have a "surprisingly similar business culture".
At the start of the four-day trade mission to China, Taoiseach Enda Kenny said both economies were centred on enterprise and innovation.
He is to meet business leaders in Shanghai before talks in Beijing with Chinese Premier Wen Jiabao.
Mr Kenny is aiming to increase Chinese investment in Ireland.
He said that China and Ireland both had "a knowledge-based economy built on innovation and technology, and our companies have all the elements for working more closely together."
'Positive signals'
His visit to China comes a month after China's Vice-President Xi Jinping - the expected next leader - visited Ireland for three days.
China is the world's second-largest economy, while Ireland is in 42nd place, according to the International Monetary Fund (IMF).
In November 2010, Ireland needed 85bn euros ($112bn; £71bn) of emergency loans from the IMF and European Union, as it struggled to cope with big debts and the high cost of its borrowing.
This was as a result of a collapse in the Irish property market following the global financial crisis.
Mr Kenny praised China's support for efforts to solve the wider sovereign debt crisis in the eurozone.
"We have greatly appreciated the positive signals from China in support of Europe's efforts to resolve the sovereign debt crisis," he said.