AIJ searched by Japanese investigators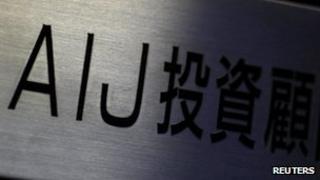 Japanese investigators have searched the offices of scandal-hit pension and money management firm AIJ Investment Advisors.
The company was also stripped of its registration, effectively ending its ability to operate as an asset manager.
AIJ is being investigated after it failed to account for 185.3bn yen ($2.2bn; £1.4bn) of client funds.
The scandal is the latest to hit Japan, and there have been calls for changes in corporate governance.
At the end of last year, Japan was shocked by the news that camera maker Olympus had hidden $1.7bn (£1.1bn) in losses for as long as 20 years.
As a result, when the size of the problems at AIJ become clear, Japanese authorities said they would start to probe all the other investment firms in the country.
AIJ managed group pension funds for more than 100 companies.
Commenting after the raids on Friday, Japan's financial services minister Shozaburo Jimi said that AIJ's registration as an asset manager was cancelled. He added that the authorities had also suspended one of AIJ's brokers and sales agents, ITM Securities, for six months.
Losses?
Kazuhiko Asakawa, AIJ's president, has been asked to appear before a Japanese parliamentary committee on 27 March to explain the situation at the company.
It is not known whether Mr Asakawa will appear before the committee. Earlier this month, Mr Asakawa refused to testify before the committee, saying he was busy compiling information requested by the Japanese regulator.
Analysts said that many Japanese pension fund managers are facing pressure to provide high rates of return despite the fact that the country's economy has been stagnating.
Some funds are required to provide a return of 5.5%. By comparison, over the last decade the Japanese economy has grown at a nominal rate of between 0% and 1%; the yield on the 10-year Japanese government bond is 1%.
Both investors and companies have been unwilling to realise losses, according to Masaaki Kanno, chief economist at JP Morgan Securities Japan.
However, revaluing assets is not an easy task as many pension funds need the approval of two-thirds of investors if they want to cut the rate of return. And if they do get approval, then companies would be asked to compensate the investors.
Most of the pension funds investing with companies such as AIJ are small- or medium-sized enterprises and typically they struggle to finance compensation for the lower returns, JP Morgan's Mr Kanno said.
"Someone, either the companies or the pensioners, should be willing to take the losses," he added.