Empty shops rate hits record, Local Data Company says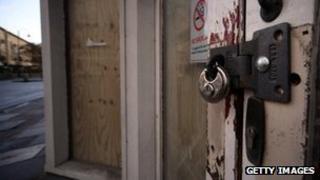 The proportion of shops in Britain lying empty has hit a new record of 14.6% in February, according to figures compiled by the Local Data Company.
Vacancy rates had begun to stabilise at the end of 2011, but they have risen in January and February, the LDC said.
It is further evidence of a difficult start to the year for retailers.
Consumer confidence also slipped back in February, the latest survey from Nationwide indicated, largely due to concerns about employment prospects.
There was an increase in the number of respondents describing their economic situation as bad.
"Consumers also scaled back their expectations for the future, with the forward-looking aspects of the index weakening during the month," said Nationwide chief economist Robert Gardner.
New figures from the Bank of England, also released on Friday, back this up.
Cautious consumers are choosing to pay off credit cards and loans, rather than take on new borrowing, the data indicate.
Evans Cycles, one of the UK's biggest bike retailers, told the BBC's Today programme that it was having to be very conscious about prices.
"We are peddling into a headwind in terms of the consumer economy," said chief executive Nick Wilkinson. "Confidence remains low, getting people to spend money on a bike is about persuading them that it is value for money."
However, Nationwide added that the number of consumers planning to buy household goods - an indicator of confidence - was higher in February than a year earlier.
This reflects official retail sales data for the month, published by the Office for National Statistics (ONS) on Thursday.
Sales volumes declined by a larger-than-expected 0.8% in February, the ONS said.
But they were still 1% higher than a year earlier.
'Damaged' High Streets
The Local Data Company said the rise in empty premises was "not unexpected" as retailers continue to cut back and even go bust.
Game, which has 600 High Street branches in the UK, said this week that it was going into administration after key suppliers stopped doing business with them. It is continuing to trade while it tries to find a solution to its debt problems.
"It is a timely reminder to the government, who are due to respond to the Portas Review this month, of the significant challenges facing town and city centres up and down the country," said LDC director Matthew Hopkinson.
Retail consultant and TV presenter Mary Portas was asked by the government to look at ways to revitalise struggling town centres.
Her report, published in December 2011, recommended cutting regulations and proposed a bigger role for street markets in town centres.
"It's crucial that the government responds to Mary's review with a menu of recommendations next week that local people, councils and businesses can 'pick and mix' to help start to reverse the damage that many of our high streets have suffered," said Ian Fletcher, director of policy at the British Property Federation.
"Our high streets need vision, trade and investment, and landlords therefore welcomed a key recommendation from the Portas report in December that allows property owners to match the funding that retailers put in to Business Improvement Districts - successful vehicles that allow traders to come together to plan and fund improvements in their area."
Currently, only retailers can contribute to Business Improvement Districts.
It will require a change in the law to allow landlords to take part in these initiatives, which are currently funded by increases in business rates.
The government said it would publish a full response shortly and pointed to the competition it had already started a competition to give 12 town centres the chance to receive help and funding as "Portas Pilots".
"We have also scrapped Whitehall rules that instructed councils to hike parking charges, given councils new powers to cut business rates for local firms, and doubled small business rate relief, which will help half a million small firms for the next two and a half years," said Local Government Minister Grant Shapps.
Rent strain
Retailers' quarterly rent bills are due this weekend. It is a large upfront cost that has prompted retailers to go into administration in the past.
For example, Game's failure to raise enough money to pay its looming multi-million pound rent bill was behind its decision to file for administration.
There have been calls to allow shop owners to pay monthly, rather than quarterly, in order to try to ease the strain.
"Retailers really need it from a cash perspective," said retail property consultant Jonathan de Mello.
"Landlords need to do more and be more creative in the way they do things," he said.