Randgold Resources' shares plunge after a coup in Mali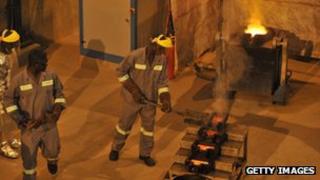 Shares in Randgold Resources have plunged nearly 13% following a military coup in Mali.
The company has three gold mines in Mali, which account for most of its gold production.
Randgold says operations at Loulo and Gounkoto, as well as the firm's Morila joint venture, were running normally.
Renegade soldiers say they have overthrown the government because it has mishandled an insurgency in the north of the country.
Malian President Amadou Toumani Toure was forced to flee his palace on Wednesday night.
Reports say that he is in a safe location with soldiers still loyal to his government.
President Toure, who has served two terms, was due to step down after a presidential election scheduled for 29 April.
Randgold Resources' chief executive Mark Bristow is at the company's Loulo mining complex in the west of Mali, approximately 350km from the capital, Bamako.
He described the current situation as "calm".
"Malians respect laws and I don't believe this will come with a high-handed change in political direction. We don't expect any subsequent governments to disregard proper and due process." Mr Bristow said.