China signs $31bn currency exchange deal with Australia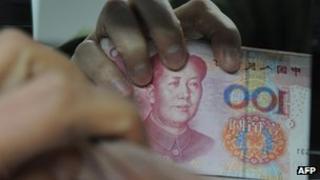 China and Australia have signed a currency swap agreement in a bid to promote bilateral trade and investment.
It will allow for the exchange of local currencies between their central banks, worth up to 30bn Australian dollars ($31bn; £20bn) over three years.
The deal is expected to reduce cost for businesses, as they will be able to settle trade terms in local currency.
It is the latest in a series of similar deals signed by Beijing as it seeks a more global role for the yuan.
"The main purposes of the swap agreement are to support trade and investment between Australia and China, particularly in local-currency terms," the Reserve Bank of Australia saidin a statement.
'Stamp of approval'
China has been trying to promote the yuan as an alternative global reserve currency to the US dollar.
It has signed currency deals with many of its trading partners, including Hong Kong and Japan.
That has seen a rise in the amount of Chinese trade being settled in yuan instead of US dollars.
Analysts said the latest deal with Australia, which is one of the biggest supplier of minerals and natural resources such as coal and iron ore to China, is a major step in Beijing's quest for a global role for its currency.
"It puts a major stamp of approval on the Chinese Yuan and is a shot in the arm in the process of its internationalisation," said Dariusz Kowalczyk of Credit Agricole CIB.
At the same time, analysts said the currency swap agreements would also see a slight opening up of China's tightly controlled capital markets, as trade partners with these agreements would have more options to invest in yuan-denominated assets.
Such a move has been cited as key to the yuan becoming more internationally acceptable as a reserve currency.