Will business repay the chancellor's generosity?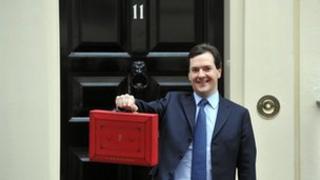 If there is such a thing as a collective business view, then business got as much as it could have hoped from this Budget.
There is an extra one percentage point off the corporation tax rate, which will now be 24% on 6 April - one of the lower rates in developed economies, and down from 28% at the last election.
The cash benefit of that additional cut will be more than £800m a year in two years, says the Treasury.
And in confirming that he will reduce the rate to 22% by 2014, George Osborne also signalled an intention to bring it down further to 20% - where it would be aligned with the basic rate of income tax and the tax rate levied on small businesses.
Business leaders also love the cut in the top rate of income tax from 50% to 45%.
And who can be surprised, given that HMRC estimates that it hands over £3bn a year to those earning more than £150,000 a year.
But HMRC also believes that those on highest incomes will change their tax avoiding ways as a consequence of the tax cut - and will therefore voluntarily or semi-voluntarily hand back most of that to the Exchequer.
And here is the risk for the government in these important tax changes - they are designed to spur changes in behaviour that may not materialise.
Some will wonder whether those with big incomes who have found devices to reduce their tax burden will abandon those devices simply because their tax rate has dropped by five percentage points.
Of course the chancellor may be assuming instead that Her Majesty's Revenue and Customs will take advantage of his new General Anti Avoidance Rule to crack down much harder on tax avoidance schemes: maybe HMRC will bully hedge fund managers, oligarchs and footballing stars to pay more tax.
But what the chancellor can't do is bully companies to reward him and the British economy for the lower corporation tax rate.
If the economy is to sustainably break free of its current bout of stagnation and resume better-than-anaemic growth, the private sector has to spend some of their record cash piles, by investing more and hiring more.
He perhaps could have ended his Budget speech by turning to his business audience and saying "I've done what you wanted, now it is your turn to do what's right for Britain".